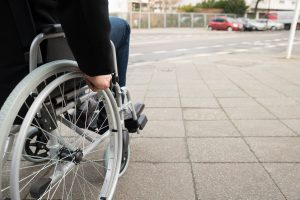 It's a shiny new year, and what better time to take advantage of the many vehicle mobility enhancements that can improve your driving experience with ease and safety. Our  National Mobility Equipment Dealers Association Quality Assurance Program (NMEDA QAP)-certified staff can help you select the right options for your unique driving needs, but here are some things to consider.
Wheelchair lifts and carriers can give you the freedom to enter and exit your vehicle while remaining comfortably in your wheelchair. Fold-out ramps allow easy vehicle access by lowering over curbs; their upright storage prevents debris build up and some maintenance issues. In-floor ramps are concealed in the floor and allows other passengers to get in and out of the vehicle without deploying. When choosing an option, consider who will be riding with you and where you typically park. If you have tight parking options and typically drive the entire soccer team around, you may want an in-floor ramp.
We may not have flying cars yet, but electronic driving enhancements like keyless ignition, headlight controls and remote wipers can make once difficult tasks as simple as pressing a button. These are great options for drivers with limited upper ability or range of motion.
Restraints for securing your wheelchair also come with options. Manual restraints lock the chair in place but require assistance to "tie down" your chair; power restraints are automatic but require devices mounted to the vehicle floor and the bottom of your chair. Torso restraints give added protection and are used in conjunction with lap belts to ensure your safety on the road. Think about whether you'll have assistance getting in and out of your vehicle; if you can always ensure assistance, manual restraints are a minor enhancement, while built-in bases give you additional freedom that may be worth the added investment.
Power seat or transfer seat bases come in four-way or six-way models, allowing you to move from your wheelchair to the vehicle seat with forward, backward or swivel movements. Drivers with limited upper extremity muscle control can benefit from both options; however, four-way bases are best for drivers that have the ability to easily support their body weight with arms in all directions while six-way models allow up and down seat adjustment for additional ease of transfer.
Rest assured that our ADS team members and their combined 40 years of expertise will help you select whichever options best fit your needs. Ring in the new year with the confidence to enjoy enhanced mobility and security as well as freedom on the open road.
We'd love to hear your questions! For more information click here!