National Mobility Equipment Dealers Association (NMEDA), is a nonprofit organization that provides consumer guidance and ensures quality and professionalism in the manufacturing and installation of mobility equipment. Members include mobility equipment dealers, manufacturers, driver rehabilitation specialists and other professionals. NMEDA awards the sole nationally recognized accreditation in the mobility equipment industry, NMEDA's Quality Assurance Program (QAP). This accreditation rewards companies in the industry that consistently adhere to the highest quality, safety and customer service standards. There's an invaluable peace of mind that comes from considering handicap vans for sale through a QAP-certified dealer.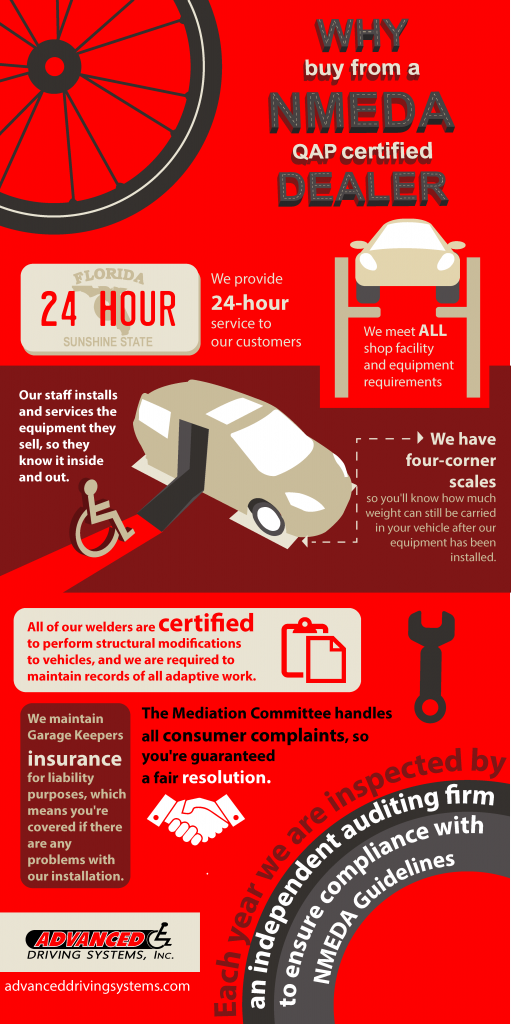 Share this Infographic On Your Site

Advance Driving Systems in Tallahassee is pleased to announce that we have been a NMEDA certified dealer with a QAP designation since the programs inception. We also are proud to have NMEDA certified trained technicians. This certification is one of the most valuable credential available in the industry. Come into ADS today and see how proud we are to be a NMEDA certified dealer and what an honor it means to be giving you incredible personal and quality service at your one stop shop Independence Mobility Center.