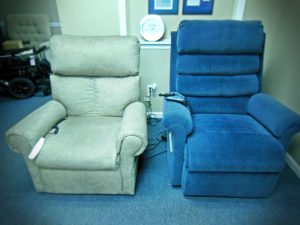 What makes football season even more enjoyable than watching your team score touchdown after touchdown? Watching it in a comfy chair! This season, spend the next TV timeout looking into lift chairs, and extremely stylish and comfortable option for comfort and easy transition into or out of your wheelchair or walker.
These comfy chairs come in many different styles and designs, thousands of colors and multiple types of fabric (including leather, microfiber, velvet, cotton, and suede). Lift chairs also come with many different functions including reclining options, massage, heat and vibration. This range of features and options makes integrating a lift chair into your home's style and personal needs as seamless as possible.
The most important feature of lift chairs is the ability to help you transition from wheelchair or walker, sit down and get back up again with ease and without the help of a caregiver. This provides a safer and more independent environment, just in case you need to jump up and tell that ref what you really think of that penalty call!
Besides increased independence, lift chairs — especially those that recline — offer many health benefits. One of the best is the use of the Trendelenburg position, where your body lays completely flat with your feet elevated 15-30 degrees above your head. This position provides your entire back with a complete stretch, improves circulation, increases the blood flow in your lower extremities, and combats pain in your neck and shoulders. It even helps with certain medical conditions including edema, congestive heart failure, low blood circulation and other circulatory conditions.
Whether you are cheering for the hometown team (Go FSU Seminoles and FAMU Rattlers!) or just looking for a comfortable way to relax, rest assured that Advanced Driving Systems has the perfect lift chair to fit your needs. Check out our available options for lift chairs online. Come see us today to let us help you find the lift chair you want, before the clock runs out on the season!